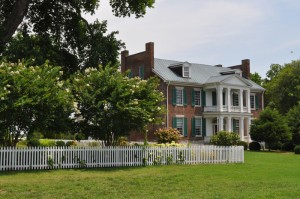 One of the many things Franklin has to offer is the terrific history from the Civil War. In fact many tourists come here to see the historic sites and then are delighted to have landed in such a cute town. The city of Franklin has been diligent to protect the Civil War history in Franklin.
The Battle of Franklin took place on November 30, 1864. It was among the bloodiest of the Civil War Battles. The city is gearing up for the 150 year anniversary in 2014. There are preservationists that are raising money to try to buy more battlefield land from the commercial sites that currently stand there. There have been 3 new parks added in recent years. Here is a nice summary of the battle and the ongoing efforts for preservation.
The main sites for Civil War buffs or general historians are the Carnton Mansion off Lewisburg Pike. There is a park near it – the Eastern Flank Battle Park. It is currently being renovated from the old status of golf course. Beside the Carnton mansion is the Confederate Cemetary. It is really a neat experience to go there. The book, Widow of the South, by Robert Hicks, details the journey of Carrie McGavock who tried to identify and memorialize the men who died in the Battle. You can read more at Robert's site, www.WidowoftheSouth.com.
The Carter House and the Lotz House are across the street from each other on Columbia Pike. The Carter house has bullets in it from the day of the battle. One of the family members in the house died in the battle. It is an excellent tour. I took it several times in my elementary field trip days. (Smiley face goes here.) The Lotz House is across the street and a compliment to the Carter House. The house stood at the time of battle and the Lotz family weathered the battle in the basement of the Carter House. Today it is a historical replica of the time. There is even a set of candlestick sconces there that my dad donated that came from his mother's estate. Www.LotzHouse.com. www.Carnton.org features information about the Carter House and the Carnton Mansion.
My friend has just opened a new Inn in her historic family home. www.FranklinBattlefieldInn.com. You can find the historical influence all through the town. Historic churches and the old courthouse. Many of the houses along 3rd Avenue and West Main date back the 1800's and early 1900's. They have signs in the front yard with the dates. If you happen to be here when we have the homes tours, you can see inside of some of the homes. Come and take in the history of a thriving southern town.