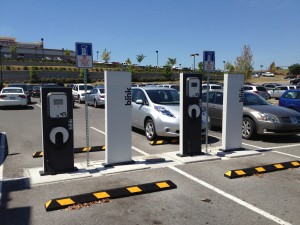 I don't own an electric car.  Disclaimer.  However, I am attentive and with all our automobile influences in our area, I watch out for car advances and influences.  And I think they are pretty cool actually – electric cars.  I knew there were a few chargers around.  But one struck me recently as it is new and not necessarily where you would expect to find one.  Of course they are at Whole Foods and the Nissan Dealership.  But at Kohl's?  I think it is a good decision.  They have added 4 electric car chargers to the primo parking near the front of the store.  I thought to myself, wow – 4, may be a bit long-sited.  But really, how many times have we wished people in the road industry would have been a bit more long sited, while they were at it.  So, 4 charging stations.  When I pulled up next to them, I though they were interesting, but were there really enough cars using electricity to warrant this investment?  This article from Franklin Life from February 2012 says there are 26 electric cars registered in Williamson County.  Maybe not a great investment right now, but I do have to tell you the rest of my story.  I came out of Kohl's after shopping for about 30 minutes and there was a car using the charging machines.  I sure didn't have to wait very long to see the usage.
So I thought about this and maybe the decision was a good one.  Kohl's sells a wide variety of items, it is a department store.  Someone with an electric car may now decide Kohl's over the mall or over the freestanding home goods stores.  It may create a new loyalty.  I think the fact that it has a varied selection of items does make it a good option for the car chargers.  And maybe while the topic is hot, there was funding from our tax dollars to help them. The article from Franklin Life also discusses the Federal funding.  Who knows, but by the time the cars are mainstream, it looks like there will be plenty of places to charge them.
Other locations for electric car charging in Franklin are the parking garages in downtown Franklin, the Embassy Suites, Cracker Barrel – they want to get those hungry clients every 100 miles on their trip, and of course Whole Foods.  Here is a link to help find charging stations.