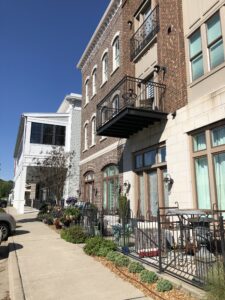 Berry Farms in Franklin TN is a mixed use community.  It offers varied kinds of housing opportunities within walking distance to retail and commercial establishments.  It is an excellent example and execution of the work/live/play concept.  It is located on the 4 corners of Exit 61 of I-65, on the south side of Franklin TN, though the part we are focusing on is on the NW corner of the interstate exit. The exit is called Peytonsville Road. It is quickly becoming a commercial center for the area, like Cool Springs or Maryland Farms.  It is on the corner of Goose Creek and Lewisburg Pike (Hwy 431).
The retail district offers restaurants, boutiques, a coffee shop, a grocery store as well as varies businesses for family health care and exercise.  The anchor store is a Publix grocery store.  A few of the businesses represented in the "town area" there are:
The community offers several different housing options with a wide range of pricing. Condos, townhouses and single family houses as well as mixed used units where small business owners can live above their business. Garages are available for most of the units. They are beautiful, upscale housing units with extensive landscaping which creates a calming, natural environment.
There are some new hotels as well. Hampton Inn, Holiday Inn Express and a Residence Inn is in progress.  There are lots of things in progress here.  Chick-fil-a is complete though and aren't we all glad?  This is probably the single most popular restaurant in Williamson County.  And we are looking forward to the Panda Express opening later this year.
I live fairly close to this area and my favorite places to go are Coconuts and Coffee, and Titos Mexican Restaurant, though The Nail Parlor is also a regular favorite for me when I need a little spa time. I love the convenience of shopping locally and driving a short distance when I want to meet someone or need to get some food.  There will be reopening of the Farmer's Market in 2021.
I have attached a few photos, and if you have questions about the area, please give me a call or text and I will be glad to help you out!  Or we can meet at Coffee and Coconuts to chat!
Monica Neubauer – 615-568-8384