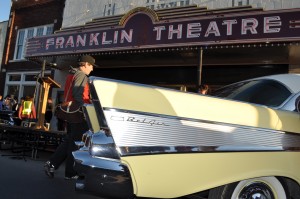 Friends,
Have you ever been to the Main Street Festival in Franklin TN? It is a wonderful event! It is best when the sun shines, but there is adventure to be had at all times. It takes place all down Main Street and around the Square in Downtown Franklin TN. There are juried artists in booths with items to be admired and purchased. And sometimes to have wonderful conversations with. Some are local and some from afar. The varied selection of art and fun items provide something of interest for everyone. Live music both days on several stages. And you know – there is never bad music in Nashville. You may not like it, but seldom do I hear bad music. I am so spoiled by the quality of music in this town, when I am out of town at a church service or a local concert, I continue to be amazed that poorly played music even exists. I guess we are all a little spoiled by the benefits our communities provide.
The Art selection is very interesting – painted items, photographs, pottery, art with metal, books, jewelry, clothing.  Things to wear, hang, and give to others.
There is "carnival" food as well as the wonderful downtown restaurants to choose from for your refreshment. I also love seeing friends out and about. I am always looking ahead with interest at the day wondering "who I might see in town today".  Spontaneous conversation is a joy to me.
Oh, and did I say it is Free? You only pay for what you purchase.  Music, window shopping, conversation, exercise – all free. 🙂  And the dates: April 30th and May 1.  Go to the Heritage Foundation's website for more detailed information.   This is Franklin's premier event and we hope to see you there.
There is also a carnival.  Carnival food – carnival rides!  They do cost.  You can buy a ride all wrist band for $20.  I guess my teens will be there.  Come one, come all.  Just come.  See you there!