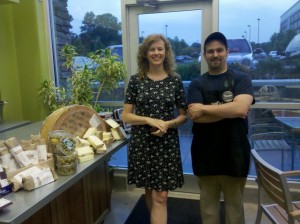 I had visited the Whole Foods in Green Hills and thought, "Wow, what a cool store!" Why I didn't have expectations that our new Franklin TN Whole Foods would also be a cool store, I have no idea.  But it is very cool!  It is a fun and interesting shopping experience. My husband, Mark, and I went over on Friday evening for a beer tasting event they had.  The store was hopping and compelling us to come in and shop. We didn't spend much time shopping that evening though. We will save that for a grocery night out, combination date and investigative shopping.   These are the kinds of dates you have after you have been married a few years.  Though I must confess, we enjoyed grocery date nights early on in our marriage too. 🙂  I digress…..
The beer tasting was brought to us by New Belgium Beer. They make Fat Tire and 1554, among other beers, as we learned. The cheese buyer, Sean, in the photo with me, paired the beers up with cheeses and chocolates. I am used to pairing foods for a wine tasting, but this was new for me, pairing foods with beer tastings. We had some wonderful cheeses and chocolate. The chocolate went with the 1554, in case you were wondering.  And they were delightful together.  I was surprised. Enjoying cheese and olives with beer is as natural as wine with cheese – delicious.  My favorite cheese was the Gruyere. 
They will have another beer tasting the 3rd Friday in June. We won't be able to be there, but I hope you can be. The cost was $5 and well worth it. I don't know what beers they will be sampling. They do have a large selection though. They even have 5 beers on tap. I am telling you – the Whole Foods is a terrific eating/dining experience. You should check it out. Make shopping enjoyable.