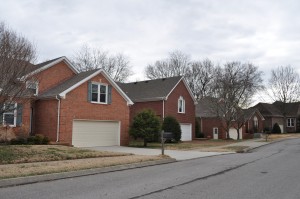 So, what is happening in the Dallas Downs Subdivision?  Dallas Downs is a subdivision on the south side of Franklin TN.  It has all brick homes, one and two level.  Most of the homes are from 1900 to 2600 sq. ft, though there is a small estate section with larger homes.  These homes were built in the early 1990's.  The trees are grown up now and the subdivision has a nice, established feel.  There are wooded areas lining the subdivision that create many private lots.  The amenities in this neighborhood are a pool, a playground and tennis courts, and sidewalks on both sides of the road.  They also have a picnic pavilion area – ready for a neighborhood block party.  They have an excellent website for their subdivision, www.dallasdowns.org.  
The location is convenient to downtown Franklin and fairly convenient to the interstate.  There is shopping nearby, in the opposite way of the evening traffic.  Great when you need to run to Kroger just before dinner!  Dallas Downs is in the Williamson County School district.  The weird thing is – there is an elementary school across the street that they aren't zoned for.  It is a Franklin Special School District school.  Oh well.
As I review the sales this year in Dallas Downs, I see that the houses priced competitively sold in a reasonable amount of time.  Dallas Downs has a good position in that the houses are "medium" sized for this area and all brick.  That, and the great amenities make Dallas Downs a popular neighborhood. 
If you want to see what houses are available in Dallas Downs, click here to see what is available there.  Contact me if you have more questions or want to see a market analysis for Dallas Downs.