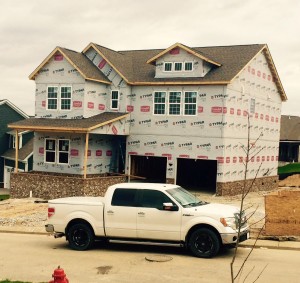 The greater Nashville area is in a Seller's Market. That means that the available inventory is selling quickly. There are usually several offers on each house. It makes for a challenging shopping environment for a buyer who needs a house. New construction can provide a good option for people who want to control their time line and still get a house they like. The wait can be up to 8, 9, even 10 months for the final product, but for some, this is the way to go to get a house in Franklin or Spring Hill.
Let's take a look at New Construction in Franklin, TN. I will post information about some neighborhoods, but let's start with how Misty, my business partner, and I can help you in your new construction considerations.  We have both built new houses ourselves and are grateful to help folks through the process.
In Williamson County, TN, including Franklin, Brentwood, Thompsons Station, Spring Hill and Nolensville, Tennessee, most of the neighborhoods in the area at this time are being built by large builders. There are smaller builders and custom builders as well and these principles generally apply to them as well.   We are going to discuss local conditions, but this is generally true in most markets. These large builders often have an on-site agent and that agent is easy to stop by and visit with.
That agent's job is to represent the seller, the builder, and sell houses. Certainly they want to hear the needs of the buyer and to try to get them into a product that will meet their needs. However, make no mistake, their loyalty and fiduciary obligation are to the builder and they are working on their behalf.
Why should you, the buyer, have your own representation when buying new construction?
Your agent would represent you, the buyer. They would have the obligation to work on your behalf in the transaction.
Your agent will know and understand your needs and can ask good questions of the builder's agent to make sure you understand exactly what you are buying. New construction is a shiny, pretty thing with lots of moving parts. And an agent can help you make sure you understand what is offered and if you want what you are buying.
Your agent can discuss pros and cons of lot placement as it relates to personal enjoyment, general water drainage and resale. For my own recent purchase, I purchased a home where the back deck faces west and will be hot in the summer. I gladly accepted the consequence to get more winter sun, but not everyone realizes the varied considerations and potential consequences.
Financing with a new homebuilder will usually be different from the process on a resale. Because of the time period it takes to build the house, there will need to be discussion about rate locks and which lender is really giving you the best deal. And there are some factors in the closing costs that are different as well.
An agent can help you understand the contract. They are not attorneys, but an experienced agent will understand the contract enough to ask questions of the builder's agent and to point out key policies that could come into place if there is a disagreement down the road.
Agents who work in new construction will be familiar with the new construction in an area. While you may know you want new construction, have you found all the opportunities in your price range? Not all options are listed in the multiple listing service.
Your agent will be able to help you walk through the building process and helping you identify what is normal in the process and what be out of place and need attention from the builder. They can also help with selections of the décor and home inspectors.
Have you built a house before? Are you aware of all the moving parts in this process. People do it every day and it is not difficult, but it can be confusing. Having your own agent can help the process move along more smoothly for you. They can also incorporate your other home sale into the timing and overall plan. And the builder pays the agent – that is good news! Get a new construction expert to help you buy your next home.
Contact Monica Neubauer and Misty Woodford for more information.