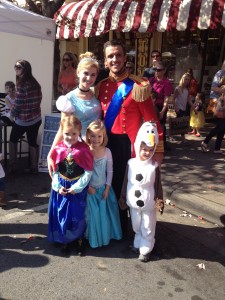 In the fall of the year, when the princesses and ghouls come out to play, Franklin, TN has an event called the PumpkinFest. It is one of those delightful times when Main Street is closed, vendors sell their grilled food and expensive beer, and the people come out to show off their costumes – or more often their kids costumes – to the world and see friends.
My daughter is a princess. Really. I know, that makes me the Queen, and I don't complain. She does princess parties for children. And luaus, and she is a style queen, and a beauty queen, etc. She also has a big heart. She and her then boyfriend came out for the PumpkinFest as Cinderella and Prince Charming. They posed with children all day to help raise money for a family to adopt a child. Children love to pose with their favorite princesses. www.TheFranklinPrincess.com
Even Elsa, Anna and Olaf like to pose with Cinderella. If you are in Franklin on October 27, 2015 you should come on down and enjoy the fun. There are lots of events for the kids. Other activities include a Friday night special of South Food and Brews, a chili cook-off, arts and crafts offered for sale, and a costume contest.
Franklin, TN is a beautiful place to visit in the Fall. See you there! Go to http://historicfranklin.com/pumpkinfest/ for more information.