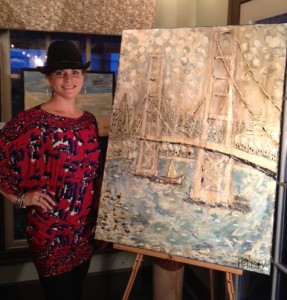 As downtown Franklin, TN continues to grow in popularity as a place that people just like to go, the Art Scene on the first Friday night of the month is one of the most laid back, interesting and easy events to attend.  There is art from local artists at many of the businesses in downtown Franklin, and yet most of those businesses are not actually on Main Street.  It is a great time to get out and see other businesses in an "open house" style, friendly atmosphere.  2nd Avenue has been a favorite place for me to see friends and look at art.  There is a realty company, art gallery, antique store and a personal home that are open with art, wine and Hors D' oeuvres.  And if you are drawn to candy, you can visit the Honey Sweets at the end of the street.
This is a great evening to see friends you know or make some new friends.  I have lived in Franklin for over 30 years, so I know a few folks in town.  The most fun part for my husband and me is to just walk around and see friends we know in town.  We never know who we will see, so it is just a fun, open time with the expectation for a good, casual social evening.
We have really been enjoying the art as well.  The diversity of art in our local community never ceases to amaze me.  The mediums people use and the textures, or lack of are always new to me.  As a budding creative mind, I don't automatically see the things the way these fine artists do – the way they stack colors or weld metal.  The end result is pleasing in a way that I cannot see in my own skill set.  My husband, Mark, is a fine artist and the way he puts together colors and landscapes are so interesting to me.  All of this art around me has inspired me though – to take up a small canvas, and one color at a time, put something of beauty on it.  I think I will have to use red in it somewhere though – that is my favorite color.
The Art Scene is also along Main Street and has been expanding up Columbia Pike.  Check out the map at the link for the Art Scene below.  Some neat things I have noticed is that live music has also become more a part of the evening.  Some locations have musicians performing at their business.  It is very unlikely to see it all on one evening, so it can easily be a regular event and be changing each month.  I encourage you all to take an opportunity to enjoy this gem of an event.  Use it to see art, meet friends, and learn new things about our terrific businesses in various locations in downtown Franklin.   This may also help you shop locally because it is a good time for exploring new places.
For more information about schedules and opportunities, check out their web page, http://franklinartscene.com/