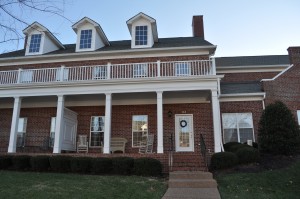 Condos continue to be a great way to live for people who want a turnkey kind of lifestyle.  Condos do not usually require much, if any, lawn care.  The exterior of the unit is cared for by the Homeowner's Association.   Often, condos can be found in convenient areas near shopping, restaurants and amenities.  They are available in 1, 2 and 3 bedroom sizes, usually.  That is the case in Franklin, though I have seen the occasional 4 bedroom or multi use room used as a bedroom.
There are some communities that have been here in Franklin for a while, Orlean's Estate across from Franklin High, Indian Springs on Murfreesboro Road, Laurelwood  and Regency Square on Boyd Mill Pike near Jim Warren Park, and the Carriage Park condos off Lewisburg Pike.  I know Orlean's Estate did some extensive exterior work on their units recently.  The Carriage Park units are arranged in such a way that most of them have very private back yards.  Southwinds near the Franklin Post Office has some units they converted from apartments or townhouses into condos.  River Rest is in the Grassland Community.  They have one and 2 level units.
There has been a lot of building recently of new condominium communities.  Hardison Hills is a large community on the west side of Franklin. It has one and 2 level units with 1-3 bedrooms.  Prescott Place is in the Fieldstone Farms community. They have one car garages.  There are the 3 level units with garages at Andover.  These are within walking distance to the south parts of Cool Springs.  Park Run in McKay's Mill has a convenient location too.
The newer condos are in many varied price points.  As we move up a bit in price, we see some differences – among them are larger units, maybe 2 car garages, granite, terrific locations.  These communities would be Parkside at Aspen Grove – 2 bedroom units right in Cool Springs,  Forrest Crossing, Brentwood Pointe  – which has several different kinds of units and may have a post of its own.  General's Retreat is a small community with units that have garages, and is fairly close to downtown Franklin. McKay's Mill has some great units – so great that they don't come on the market often.  Jamison Station has loft type units and some of them have elevators.  Check out an earlier post on them.  They weathered a bit of a downturn from the market, but are thriving now in their great location near the Factory.  Some of the units have elevators.  Berry Farms is the newest community.  Berry Farms is a mixed unit community south of Franklin near I-65 and they seem to be selling well in preconstruction.  Millgate townhomes have 2 car garages and master bedrooms down and are convenient to many areas.
Jamison Station would also be included as we move into next price range.  Some of the units are large and a few are mixed zoning which makes them great for people who want to run a business out of their home, but need a commercial zone.  Grant Park, right in Cool Springs has a terrific location by Whole Foods.   Gateway Village is near Moores Lane.  They have a growing retail community right there near the units.   Willow Springs has some nice townhomes also – and the community has a lake and lots of single family homes.  The Preserve at Forrest Crossing occasionally has a resident move out.  These units feel a lot like a single family home.  And the Ashton Park and Westhaven condos are townhouses – 2-3 floors with beautiful finishes and garages.  Ashton Park is in Cool Springs and the Westhaven condos have their own draw in the Westhaven community that offers so much for its residences.
There is one more segment of condos in Franklin – the 55+ communities.  These are age restricted communites.  Reid Hill Commons – brick units on the west side of Franklin with garages.  Windsor Park is in the Fieldstone Farms community of homes – right across from the Pulix.  Morningside is in Cool Springs.  One level units with an assisted living center in the same community.
What kind of condo do you prefer?