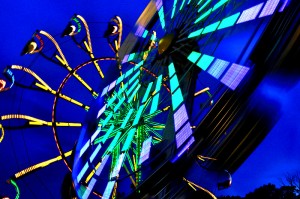 When I say the words, "county fair", what do you think of? Do you have memories of going to the state fair or a county fair in your town?  Do you have memories of reading books about the whole community participating in the county fair?  What images come to mind? Quilts, cotton candy, live music, the Ferris Wheel, or maybe a petting zoo. All of these things are part of the fun I have experienced at the Williamson County Fair in August at the Ag Center on Long Lane. They started it up again about 8 years ago. I can't remember exactly when, but not too long ago.
Some of my fun memories of the fair include the year we went after we bought our new camera and wanted to capture the sights and colors of the fair. My husband probably took the picture you see featured here. He is the visual creative of this duo. I took some too, but the best ones inevitably turn out to be his. We waited for dark and experimented with our settings and tried to capture cool views. The next year I entered some photos I had taken into the Photography competition. Two of my photos received second place in their categories. That was fun – to improve my skill and enter it into competition and exhibition. I do enjoy the art, photography and the quilts that are on exhibition.
I also enjoy the live music. Because this is Nashville, it is always good. The fair has several stages going at the same time, so if you don't like what you hear at one stage, move along and you will find some more not far off. The food selections are what you expect at a fair. No disappointment there. The fair has not moved to healthy, organic food. They still serve cotton candy, ice cream, real lemonade and turkey legs. And of course, funnel cakes!
There are lots of competitions – food, art, music, beauty pageants, and animal displays. I love that it still celebrates the craft skills that seem to becoming a rarity in our nation. My daughter has done the pageant 2 or 3 times. She was first runner up one year. It is a simple and inexpensive pageant for those who want to do one, but don't want to get into the serious competitive part of the industry. They start from the very young up to age 20.
And let us not forget the Midway. Riding the rides is a highlight of any fair-going experience. Especially for the teens. You can pay per ride, or buy a wristband to ride for the whole day.
For more information, check out the Williamson County Fair website. They have all the applications and schedules. The dates for 2013 are August 2-10.
I'll be going! Maybe I will see you there!